Surviving Hurricane Ian, Part 2
Aftermath and Recovery
It's been nearly three months since Hurricane Ian made its tortuously slow and calamitous giant monster-crawl through our community. We have survived an apocalyptic event here, and we have the scars to show it. I have no regrets for staying to ride out the storm, but it is not lost on me that I can say that because my home and person were spared. Our first weeks post-Ian were a challenging adventure for us, and a relentless trauma for many across Florida whose homes were badly damaged or destroyed, or who suffered bodily injuries or deaths of loved ones.
Thanks for reading Living Heart with Ellen Livingston! Subscribe for free to receive new posts and support my work.
On the ground in my community, a group cleanup day was immediately coordinated to help our friend Helen begin to dig out (read Part 1). There was an entire large metal roof crumpled up in her yard, blown in from somewhere in the neighborhood. While we were working, a troop of National Guardsmen appeared on foot in their boots and uniforms, walking her heavily damaged neighborhood and checking in at every home, taking information to sequester assistance. This scene was very moving, along with the incredible ongoing influx of trucks from out-of-state companies – electricians, tree workers, roofers, flood and mold specialists, and then the enormous black double-train FEMA (Federal Emergency Management Agency) debris removal trucks which are still a constant here – it was a real spectacle.
These rescue workers filled parking lots all over town for many weeks with their equipment and temporary RV homes. The FEMA trucks have taken over the small private-plane airport up the street from us, and the mounds of debris they have gathered there to process appears like a new mountain range on our flat Florida landscape. There have also been many groups of volunteers, some from states far away, who mobilized to offer their labors of love to our communities. A popular cafe in town posted that although they had no food they somehow had electricity, which they offered freely for all who needed to charge phones and other devices.
We got busy on our own property setting up the solar power station and panels we had fortuitously purchased recently, and a smaller solar setup we use when we are camping. We were pleased to find that we were able to keep our household fridge and freezer going for the whole week that the power was out, along with our phones and lanterns (constant sunny weather helped!). It didn't seem worth it to charge our computers since we had no internet. But we did find that we could make quick smoothies in our Vitamix without draining our solar battery. That felt like luxury! We poured the chemical-free water dipped from our hot tub through our carbon Berkey filter for drinking water.
Our water district was able to give everyone a slowly increasing trickle of water to our homes, but was strongly cautioning us to try not to use drains, and to flush toilets as minimally as possible since there were many breaks in the main water lines and sewage was backing up into many homes as well, so what we each did would affect the whole system. A neighbor tipped us off to remove the sewer cover in our yard, so that it would back up there instead of into the house. That relieved my mind some, and thankfully we did not experience any backup at all. Our power was restored in a week, but the water/sewer restoration took another week or so. Along with our neighbors we reveled in the wonder of our tranquil star-lit nights while all the usual lights were out for a week.
We had to purchase a gas chainsaw since our electric one was useless under the circumstances. Fortunately, my partner Todd got a paid week off from his day-job while their buildings got repairs. Instead, he spent the better part of each day behind a chainsaw. I laughed out loud when I discovered an intact hen's egg - not even hard-boiled! - underneath a branch in our yard (I still don't know how that happened). When I wasn't dragging branches to the street for the FEMA trucks to pick up, or moving our solar panels around the yard to catch the best sun rays, I was waiting in lines to apply for various forms of assistance. These long lines were in a strange way a therapeutic place for swapping our incredible tales of traumas and miracles.
The best thing to come of my time in line was the unforgettable tree-work assistance gifted to us by an energetic Samaritan's Purse church group from Ohio. A father and son and four of their comrades arrived on our land with three big landscaping machines, and worked intensively for two half-days, leaving their equipment with us overnight. No job was too big for this team, fueled by love, and we cannot imagine what we would have done without them. They prayed over us several times, engaged us in lively discourses about the meaning of God and life, and proudly gifted us bibles with their personal inscriptions. I understood that this was all part of the exchange. They were delighted with my depiction of a ripe mango as a perfectly complete expression of God's handiwork, and I sent them on their way with a bag of their favorite banana lara bars 'for the road,' and a heartfelt thank-you card.
We accepted their persistent invitation to join them for a free dinner at the local Samaritan Church. They were so genuine and gracious, and eager for us to sit at their table and share bits of our lives with each other. We learned about their families back home, and things about the life of a Samaritan traveling to disaster zones. There were about 200 people at this nightly community dinner for the work-teams and their invitees (like us), and it was touching to hear highlights of the day's recovery missions from those wishing to stand up and share.
Finding a body shop to repair my car, which was hit by a falling tree, was another adventure. The first shop my insurance company referred me to said they could fix my car - in six months! The next shop they offered turned out to have been crushed in the storm. I did some legwork and my car did finally get fixed last week. We are still waiting on our roof repairs. Blue roof-tarps remain seemingly everywhere, but the generators and sirens have subsided and the chainsaws and trucks are less constant. Slowly but surely, the roadside piles of plant and building debris and household stuff are really diminishing. Some of us will miss the daily treasure-hunts among all those piles!
Though each of us has our own unique journey through the aftermath of Ian, some common threads in our collective experience seem to be the early shock and disorientation (and actual dislocation for many), leading to grief and sadness, and frustration and anger for some, too. As the realization of the full extent of the damage gradually set in, along with the dawning of understanding that we were in this for a really, really long haul, a palpable sense of some communal depression emerged. For the strong-hearted, we are offered an abundance of lessons in patience, acceptance, surrender, non-attachment and resilience. Many plants have inspired us with their stunning revival and unprecedented sudden growth-spurts and blossoms, in the endless sunshine that followed in the wake of the deep storm rains.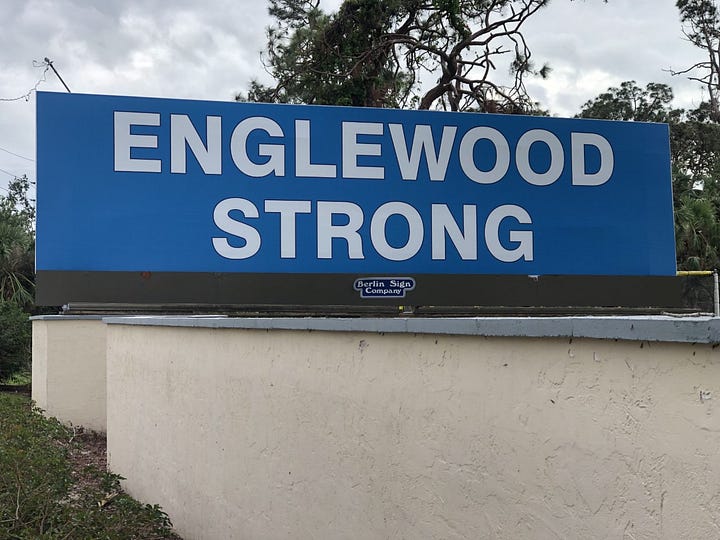 A bold new sky-blue billboard at the entrance to our town proclaims: 'Englewood Strong.' We are strong together in this community, and we feel it. Our downtown renovation project barely missed a beat, our farmer's market is back in full swing, and we had a cheerful vegan health festival last weekend in our beautiful new plaza. In the midst of ongoing major repairs, normal activities are resuming and the snowbirds are flocking in, as usual for this time of the year. Despite a dreaded red tide algae bloom impacting our beach ecosystem temporarily, no doubt feeding on all the run-off from the hurricane, the other day I enjoyed watching a pod of dolphins leap-race across the bay, likely chasing a school of fish.
My friend Evelyn, an artist, has respectfully allowed some of nature's newest sculptures to remain in place. A 100-foot pine tree completely bisected her backyard when it fell, and she delights in the fairy-land of archways, tunnels and playful passages it has created, with its climbing vines now blooming at eye-level. The huge oak tree gracing the entrance of the community hub we all know as 'The Open Studio,' lies dramatically on the ground, alive with fresh leaves and half of its roots still anchored in the ground. A beautiful sign, hand-painted by Evelyn and placed next to a stone bench nestled comfortably in the branches reads: 'Honor What Is.'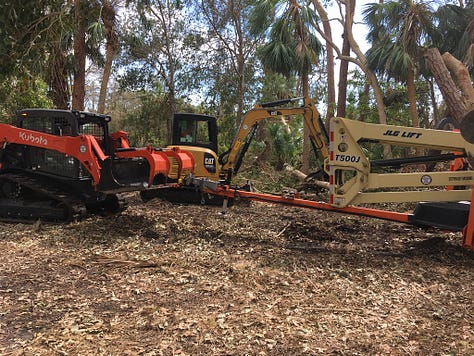 Thanks for reading Living Heart with Ellen Livingston! Subscribe for free to receive new posts and support my work.